Ao Dai for men in Vietnamese cultural flow
The world, and Viet nam in particular, would be more beautiful with more images of both men and women wearing Ao Dai (Vietnamese traditional long dresses) during festivals as well as political, foreign and cultural events.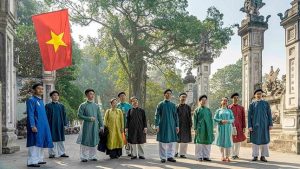 The traditional costumes have always contributed to honouring the country's cultural identities. The men's Ao Dai had once sunk into oblivion. However, today, Ao Dai for men is in the process of a renaissance, with the attention of the whole community.
An arduous journey
People who love traditional culture must not forget the image of Vietnamese Ambassador to the United Kingdom (UK) Tran Ngoc An presenting a letter of credentials to UK Queen Elizabeth II. He wore a blue Ao Dai with traditional patterns. That was a beautiful moment as Ambassador Tran Ngoc An selecteda Ao Dai to express Vietnamese traditional culture. Vietnamese Ambassador to India, Bhutan and Nepal Pham Sanh chau wore Ao Dai not only during diplomatic ceremonies but also at festivals and cultural events. He also mobilised the Embassy's staff to wear Ao Dai regularly. Now all staff at the Vietnamese Embassy in India wear Ao Dai on three occasions each year including at Tet (Lunar New Year), National Holidays and the Vu Lan (a Buddhist holiday held annually on the 15th day of the 7th lunar month to express gratitude to mothers). Ambassador Chau has been called "The Ambassador of Ao Dai". The appearance of Ao Dai for men at diplomatic events has surprised many people because previously, few people thought this kind of traditional long dress could bring such elegance and honour to the national culture.
These beautiful images make us feel the revival of Ao Dai for men seems to have started. However, the return of men's Ao Dai was not as easy as it seems. Writer and researcher Hoang Quoc Hai still remembers the time nearly 30 years ago when the Ministry of Culture and Information (now the Ministry of Culture, Sports and Tourism) invited experts to discuss national clothing. He said that none of the many invited cultural managers and experts could answer the question of what was the national uniform for men. For him, it is a cultural pain. He said the meeting between leaders of the Ministry of Culture and Information and experts did not bring about results as expected but it did create a start.
Many people started talking about a national dress that expresses the national identity firstly. Certainly, traditional Vietnamese clothing comes in a variety of styles for men and women. However, the traditional Ao Dai dress was considered the "prime candidate" for the national clothing of Vietnamese men. In the past, Ao Dai for men often appeared only on the stage or at festivals. But then, the Ao Dai for men gradually appeared more at weddings, fashion shows and cultural events. Images of the Ao Dai for men in use have been more frequent over the past ten years. There are more and more young people confidently wearing Ao Dai in their activities. Thua Thien Hue province has become the first locality encouraging male civil servants in the cultural sector to wear Ao Dai each Monday.
The journey of preserving and promoting the value of Ao Dai for men also featured the participation of many researchers, cultural experts and especially young people. Dinh Lang Viet (Vietnamese Communal House) Club is one group active in restoring the tradition of the men's Ao Dai. Its members have always worn Ao Dai at cultural events. In 2017, the Ao Dai Ngu Than (five-flap long dress) Development Support Centre under the Dinh Lang Viet Club was formed. The club's head Nguyen Duc Binh said that "Lord Nguyen Phuc Khoat laid the foundation for the birth and development of Ao Dai Ngu Than in 1744. The image of Ao Dai for men had faded since 1940s due to the influence of western culture. After 1954, Ao Dai for men only appeared on stage. Wars persisted continuously, so the image of Ao Dai was forgotten. In fact, in cultural and fashion festivals, many variations of Ao Dai sometimes lost the male visage of strength, sometimes looking like the traditional long dresses of other countries in the South Asia. Many people began to confuse the men's Ao Dai with other outfits. This is the reason why the Dinh Lang Viet Club and many research groups and art experts started to rediscover the beauty of the men's Ao Dai. Fortunately, there are still many documents and images related to the Ao Dai Ngu Than.
In addition to Dinh Lang Viet Club, many researchers and other traditional cultural clubs have conducted their own studies. Up to this point, the traditional Ao Dai for men has been "positioned" onspecial criteria. In addition to its distinguishing factors compared to the long dresses of other nations, Ao Dai for men has a distinctly profound significance. For example, the five flaps represent the four mothers and fathers as well as himself. Five buttons represent the five virtues of a gentleman.
Efforts to make Ao Dai closer to life
As a witness of the ups and downs of the men's Ao Dai, writer Hoang Quoc Hai is happy to see its "renaissance". He said that he has firm faith because there are many young people among the researchers and those who like wearing Ao Dai ngu than. In fact, in addition to Dinh Lang Viet Club, the Y Van Hien Club was a group of 9x young people who have made efforts to find a way back for the nation's traditional costumes. Y Van Hien has become a reputable enterprise that specialises in providing traditional costumes for collectives and individuals including many cultural and diplomatic activists. Director of the Y Van Hien Company Nguyen Duc Loc said: "Looking back at the photos of Hanoians in the early twentieth century, we see that many Hanoi families wore traditional Ao Dai. The traditional Ao Dai for men overcomes many physical weaknesses while exuding an elegant elegance and demonstrating the strong poise of a man".
However, the traditional Ao Dai for men has also certain disadvantages. The preservation and promotion of value of this traditional outfit is necessary; however, the problem is how to apply it to the modern social context.
According to Master Nguyen Kim Huong, a lecture from the Hanoi University of Architecture, the renovation of Ao Dai is a trend to suit today's life, so that it can be used while going to work and going out".
Many other researchers believe the renovation must pay attention to convenience and comfort. Head of Dinh Lang Viet Club Nguyen Duc Binh also noted that Ao Dai must be adjusted to keep its traditional beauty as well as apply it to today's lifestyle.
Although there is no official document recognising the men's Ao Dai ngu than as a national costume, in the minds of many people, it is most certainly a representative image of Vietnamese costume culture.
Nhan Dan